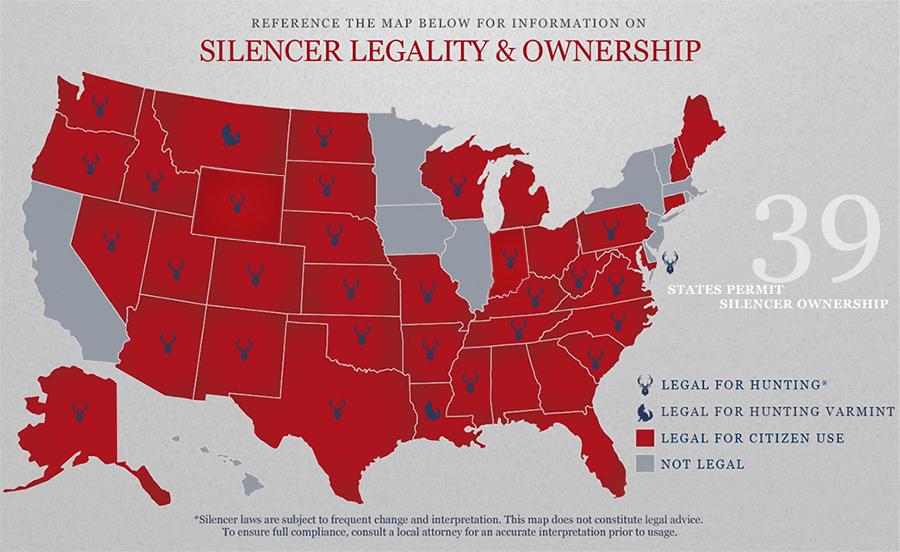 ---
SIGN UP TO RECEIVE EMAIL UPDATES
---
THE ROLE OF SILENCERS
By definition, the primary role of a silencer is to reduce the overall sound signature of the host firearm to hearing safe levels. They do so by trapping the expanding gasses at the muzzle and allowing them to slowly cool, in a similar fashion to car mufflers. Their muffling capabilities intrinsically make them a hearing protection device for both the shooter and those around them.
SILENCER LEGALITY AND OWNERSHIP
Silencers are regulated under the National Firearms Act (NFA) of 1934, which is a branch of the Bureau of Alcohol, Tobacco, Firearms and Explosives (BATFE). To legally purchase or possess a silencer you must:
Be at least 21 years of age to purchase a silencer from a dealer.
Be at least 18 years of age to purchase a silencer from an individual on a Form 4 to Form 4 transfer (contingent on state laws).
Be at least 18 years of age to possess a silencer as a beneficiary of a trust or as a member of a corporation (contingent on state laws).
Be a resident of the United States.
Be legally eligible to purchase a firearm.
Pass a BATFE background check with a typical process time of 60-120 days.
Pay a one time $200 Transfer Tax.
Reside in one of the 39 states that currently allows civilian ownership of silencers.
Benefits of Silencers
HEARING PROTECTION
According to OSHA, the threshold for a hearing safe impulse noise is 140 dB. Without hearing protection, exposure to any impulse noise over 140dB causes varying degrees of permanent noise induced hearing loss, which can also lead to tinnitus. Most well engineered silencers take the dB level of their host firearm below 140 dB, making those silencers effective primary hearing safety devices.
increased accuracy
One of the most common problems for shooters is decreased accuracy caused by flinching in anticipation of the firearms discharge and recoil. By containing the explosion at the muzzle, reducing recoil, and decreasing muzzle flip, silencers dramatically increase accuracy, especially among new and inexperienced shooters.
BENEFITS OF SILENCERS
Because of the inherent decrease in dB levels, the use of silencers increases situational awareness, and allows for easier team communication. Furthermore, by virtually eliminating muzzle flash, silencers not only prevent "blooming" of night vision equipment, but also help disguise the position of the shooter in low light environments.